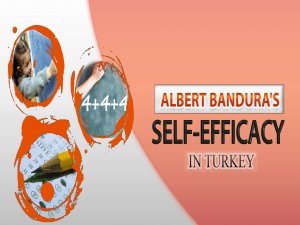 Albert Bandura's Self-efficacy In Turkey
Since Bandura published his seminal paper, "Self-Efficacy" the subject has become one of the most important topics for psychologists and educators because self efficacy plays a role about how people think,behave and motivate.
ALBERT BANDURA'S SELF-EFFICACY
            Self-efficacy is a belief that is related to people's own abilities to deal with various situations. Besides, self-efficacy indicates to people whether or not they accomplish the task or challenge the task. (I think, I can.). According to Albert Bandura, there are four major sources of self-efficacy.
Mastery experiences
Social persuasion
Social modeling
Psychological responses
Why is self-efficacy so important for students in Turkey?
            Having faith in their self-efficacy has an influence over students' learning motivation. Students with less belief in their self-efficacy are far less motivated for learning and they cannot dedicate themselves to educational affairs. They are generally unwilling to face difficulties or do not make any effort to overcome them. When the situation of having low-level self-efficacy lasts too long, learned helplessness may emerge. For this reason, belief in self efficacy and the factors constituting it should be known. In case sources of the students' self-efficacy awareness and the extent to which these sources influence their belief are known, self-efficacy beliefs concerning learning process and performance would be developed.
Education system in Turkey is based on exams and memorization so this leads students to have some doubts about whether or not they succeed. Thus, they are daunted and they are unwilling to study. Therefore, educational perspective should be changed because it affects students' self-efficacy. For instance, instead of the exams such as TEOG, LYS or KPSS which limit students' social lives, decrease their self-efficacy and even cause students' health to fail, new arrangements that is based on students' ability has been put in effect by the governments. Thus, students' bad or good experiences do not affect their entire lives because of a few hours as a result. If students' mastery experiences are affected negatively like this, students always have doubts the next exams. Even, this way affects students' whole lives like workplace.The changes of exam system in Turkey lead students to be in trouble. Especially students in stage of high school 9,10 and 11 , because of the fact that they do not know what they face, they have no idea and this causes them to be afraid. SBS is the system that we become addicted. Nonetheless, nothing is certain now.
            In addition to this, activity of guidance and counselling should be increased in the process of student guidance because that the student realizes his ability is related to both himself and his environment. It can be an example of social persuasion. For example, the students who have some fear about math should go to psychologist in order to conquer fear before they start studying. Psychologist or guidance service can explain the best way in order not to have any fear. For example, they can say to students "You are stronger than math problems so having some doubts in terms of failing is unnecessary for you." This leads students' self-efficacy to increase. In this way, students who has a high sense of self efficacy do not avoid challenging the task and their self confidence is high. That is, it is obvious that social persuasion is also important sources of self-efficacy to increase success in Turkey. Therefor students need some persuasion by the psychologists or experts in order not to be afraid of math or others. The other example in Turkey is that although self-efficacy of learning English is so higher, people's number that learns English is low because people's psychological responses are not available to learn English.
            The other development in education in Turkey can be about students' mastery experiences. Students' motivation increases when they succeed. Nonetheless, that students get a prize is the most factor to increase their motivation. If students succeed, they are rewarded and they always want to succeed thanks to reward. That student achieve the task leads them to want more success. Besides, when the students who succeed are rewarded, they have an extra desire to succeed. Unfortunately, reward system has not developed in Turkey. Only some private school has a good reward system such as support scholarships.
            All in all, self-efficacy plays a vital role in Turkey because of Turkish education system. Self-efficacy is a key for being successful especially in Turkey because students must not be only clever that also they should have a self-confidence. Students who live in Turkey have to have high sense of self efficacy in order to deal with a lot of conditions and the development of self-effıcacy scale toward lessons should be occured by the governments.
Bu haber toplam 5535 defa okunmuştur