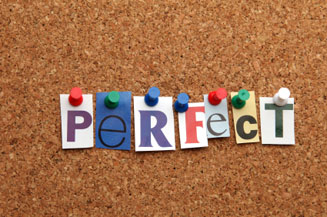 Perfect,Best vs Good Enough
Perfect,Best vs Good Enough
Hey, do you really desire perfection? Or do you make do with good enough? Make your choice and then your life path. Because your attitude on your choice is playing key role. But don't remember that "the best is not always what we need the most".
Nowadays, our world whispers excellence to our ears and our culture's always emphasis on being and having "the best". But actually you know from your inside that the best is not always the most successful or satisfying way to live. Now, I'll give you example about that.
A prevalent complaint about recent college graduates is that they have unreal expectations about the kind of jobs they should be applying for. They generally are frustrated when their abilities aren't recognized by the potential employers . The first job out of school may not be the best job; but some people know that and they have discovered is that a good first job is just a starting point. And after you are getting first job; your performance is what will inevitably lead to the job you want. "You can only work with what you have today. But you can't know what will bring tomorrow.Be patience and work hard for getting job you want".
You maybe are perfectionist but just a moment consider this: Struggling to be or do the best could be costing your pleasure of the "good enough" moments drizzled through every day.
So why not try to recognize and enjoy the "good enough" moments instead of insisting that it be the best? Just let it down and plesuare your good enough moments, and don't forget to be thankful for what you have…
BİBLİOGRAPHY
https://www.psychologytoday.com/
Muhammed Fethi Şua
Bu haber toplam 2881 defa okunmuştur